CALHYCO - water level and wave data propagation in the fringing reef of La Reunion
This dataset has been produced in the framework of the CALHYCO research programme: Characterization of hydrodynamics coastal hazards.
This dataset contains:
1) in-situ records of water level and wave height parameters from spectral analysis, on a transect perpendicular to the reef, at the reef slope (RS) and the reef flat (RF).
2) Numerical modelling of water levels and wave heights on the reef using the XBeach model in "surf beat" mode
A "readme" file, downloadable with the data files, describes the nomenclature of the files and the variables measured.
These in-situ surveys took place on the western side of La Reunion Island (Indian Ocean) in a microtidal zone frequently exposed to Southern Ocean swell and cyclonic events. Coral reefs represent an efficient natural mechanical coastal defense against ocean waves. The objective of CALHYCO is to provide a better understanding of the coastal defense characteristics of the reef system against these events.
Simple
Date (Publication)

2022-04-05
Date (Creation)

2022-02-21
Credit

CALHYCO / OSU-Réunion
Type de jeux de donnée ODATIS

/in-situ observations

/Processed data/Model outputs

/in-situ observations/Networks

/in-situ observations/Sea cruises
Variables ODATIS

/Physical Oceanography/Tides

/Physical Oceanography/Pressure

/Physical Oceanography/Waves

/Physical Oceanography/SSH (Sea surface height)
Keywords
Access constraints

Other restrictions
Use constraints

Other restrictions
Other constraints

The data files (.csv format) can be downloaded from this metadata sheet. A "readme" file describes the nomenclature of the files and the measured variables.

Any use of this dataset must cite its reference: its DOI (https://doi.org/10.12770/aa42cbc1-c0cf-413e-b93d-8d0d1cbb0e06 ) and the following partners: This work is supported by OSU-Réunion, University of Western Brittany (UBO), Mediterranean Institute of Oceanography (MIO) and Delft University.
Spatial representation type

Vector
Metadata language

Français
Character set

UTF8
Topic category
Begin date

2017-03-13
End date

2017-05-12
Unique resource identifier
Geometric object type

Point
Hierarchy level

Dataset
Statement

References:

- William Bruch W., Cordier E., Floc'h F., Pearson S.G. (2022) Water Level Modulation of Wave Transformation, Setup and Runup over La Saline Fringing Reef. Journal of Geophysical Research - Oceans. https://agupubs.onlinelibrary.wiley.com/doi/10.1029/2022JC018570

Location of points RS (Reef Slope) and RF (Reef Flat)

RF : Reef Flat station

LAT = 21.10155°S

LON = 55.24028°E

RS : Reef Slope station

LAT = 21.10627°S

LON = 55.23804°E

A/ Variables description "prefix_param_suffix" for observation data

data file name : calhyco2017_lareunion-reef_waterlevels_observations.csv

exemple : RF_Hs_gw : significant wave height of gravity waves on the reef flat.

1/ Prefix

prefix RS for Reef Slope (observations and model)

prefix RF for Reef Flat (observations and model)

2/ Second part is param among:

level : totl water column height above sensor [m]

fpeak : peak freqeuncy from spectral analysis

Hrms : RMS wave height [m]

Hs : significant wave height [m]

Tm0m1 : mean wave period (spectral energetic period) [s]

Tm02 : mean wave period (spectral zerocrossing period) [s]

setup : setup [m]

Tide : tidal variations [m]

3/ suffix :

_tot for full spectrum

_gw for "gravity waves" part of frequency domain 0.04-0.25 Hz

_ig for "infra-gravity waves" part of frequency domain 0.004-0.04 Hz

_vlf for "very low frequency" part of frequency domain 0.0006-0.004 Hz

B/ Variable description for numerical model data

data file name : calhyco2017_lareunion-reef_waterlevels_xbsbmodel.csv

RFxb_param RSxb_param for numerical modelling with xbeach surf-beat mode

_Hgw : significant wave height in gravity wave domain [m]

_Hig : significant wave height in infra-gravity wave domain [m]

_Hvlf : significant wave height in very low frequency wave domain [m]

_setup and runp in [m]
Conformance result
Date (Creation)

2012-01-16
Explanation

Non évalué
File identifier

aa42cbc1-c0cf-413e-b93d-8d0d1cbb0e06

XML
Metadata language

Français
Character set

UTF8
Hierarchy level

Dataset
Date stamp

2022-06-27T11:23:56.599Z
Metadata standard name

ISO 19115:2003/19139 - SEXTANT
Metadata standard version

1.0
Overviews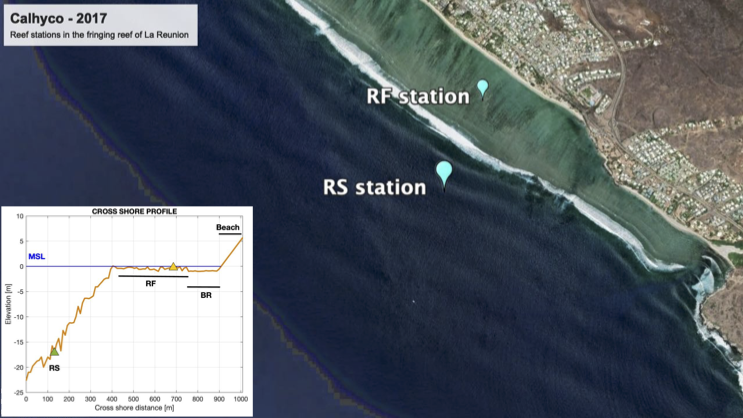 Spatial extent
Provided by

Associated resources
Not available